By Peter Lance Nov. 5th 2016 The HuffPost reported last night that Trump advisor Rudy Giuliani changed his story yesterday about how he'd spoken to active duty FBI agents in the days prior to Director James Comey's bombshell letter to Congress which has narrowed the presidential race in favor of Donald Trump.
That HuffPost by Chris D'Angelo contains links to the various interviews Giuliani did on Fox News, Fox and Friends, and the Lars Larson radio program proving that he lied to CNN's Wolf Blitzer yesterday when he said that he'd only spoken to former FBI agents and none that were active duty.
After you read that piece, take a look at what I reported on Giuliani in "Deal With The Devil" my fourth book for HarperCollins in 2013.
It focuses on the Bureau's 30+ year secret relationship with Colombo crime family capo Gregory, "The Killing Machine" Scarpa Sr. who was protected for 12 years by Supervisory Special Agent R. Lindley Devecchio in a scenario I described for U.S. News & World Report as "The Whitey Bulger Story on Steroids."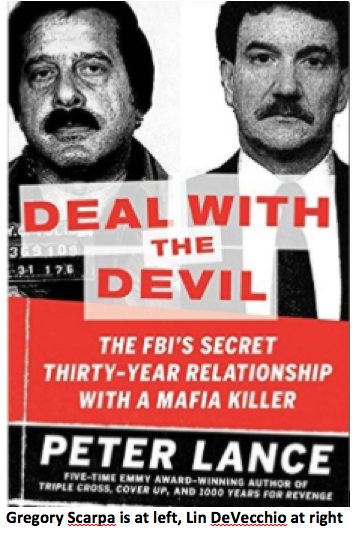 During a relationship that began in the early 80's and ended shortly before Scarpa's death in 1994, the evidence I uncovered demonstrated that DeVecchio had repeatedly leaked intelligence to the mad dog killer who once boasted that he'd "stopped counting" after fifty hits. In fact, multiple special agents working under DeVecchio in the FBI's New York Office came forward in the early 1990's accusing him of the leaks.
Those accusations led to an investigation of DeVecchio by the Bureau's Office of Professional Responsibility. But after Lin was granted immunity he took the Fifth and refused to take a polygraph — standard FBI protocol in such matters. The OPR ended with no charges filed against him and DeVecchio retired with a full pension.
DEVECCHIO AND GIULIANI
In the mid 1980's Rudolph Giuliani appointed DeVecchio "case" or lead agent on the "Mafia Commission" prosecution which led to the conviction of three of the five New York crime family bosses and their subordinates propelling Giuliani, then U.S. Attorney for the Southern District of New York, into Gracie Mansion.
As "Deal" recounts, in March of 2006 DeVecchio was indicted on four counts of murder conspiracy by the Brooklyn D.A. stemming from his alleged "unholy alliance" with Scarpa Sr. who had eluded indictment for years despite the best efforts of federal prosecutors in Chicago, New Jersey and Brooklyn to put him away.
In the fall of 2007 DeVecchio's trial ended abruptly after tapes surfaced which seemed to question the credibility of Linda Schiro, Scarpa's common-law wife, who'd been a key prosecution witness.
But as I reported in "Deal," building on the work of Alan Feuer in The New York Times, in 1976 while he was an Associate Deputy Attorney General in the Reagan Justice Department Giuliani personally intervened to kill an indictment of DeVecchio by the U.S. Attorney in Baltimore after Lin, an avid gun collector, made an illegal sale of German Lugars to a pair of undercover ATF agents in the parking lot of a gun show.
In other words, long before he became the crusading mob-busting U.S. Attorney for The SDNY, Rudy Giuliani had intervened when lower ranking DOJ officials had earnestly sought to indict Devecchio.
That story should prove enlightening when considering whether Giuliani might have been willing, in the final days of the campaign, to exploit leaks from disgruntled agents in The FBI's New York Office. The following is an excerpt from Chapter Ten of "Deal The The Devil."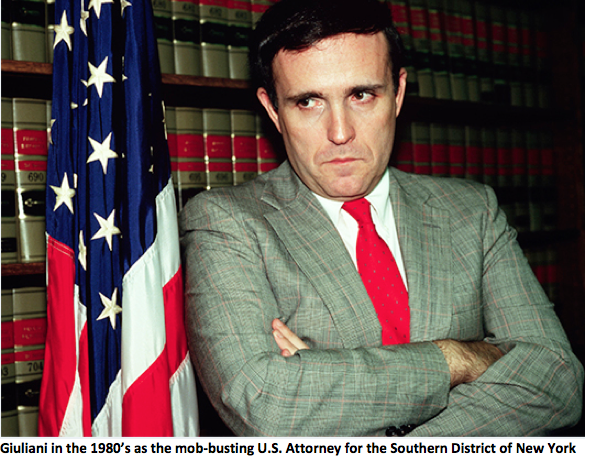 The German Lugar Bust:
Gregory Scarpa Sr. was an expert marksman. He not only loved guns, he also sold them. One investigator told writer Bob Drury that Scarpa personally tested the illegal weapons, mostly rifles, that he and his crew sold "to make sure anybody that bought a gun from him wasn't getting a raw deal." Later, during the third Colombo war, Scarpa rigged a vehicle with compartments concealing shotguns, rifles, and pistols.
He cruised the streets in this "death car," using it to knock off his rivals. In his book, Lin DeVecchio reveals a similar affinity for firearms. "From the first time I fired a pistol, I loved shooting and I loved guns," he writes. He claims to be a "crack shot," indeed "one of the better shots in the Bureau." And, again like Scarpa, DeVecchio didn't just use guns, he sold them.
In early 1976, at a time when his FBI salary was likely under $40,000, DeVecchio was arrested by undercover agents of the Bureau of Alcohol, Tobacco and Firearms (ATF) for selling two German Lugers valued at $60,000.
According to a story published thirty years later by New York Times reporter Alan Feuer, the arrest occurred "when Mr. DeVecchio traveled from New York to King of Prussia, Pa., to sell a Nazi-era Luger at the Valley Forge Gun Show."
In testimony under oath at a 1997 federal court hearing, DeVecchio admitted that while working as an active-duty agent he regularly attended gun shows "in different parts of the United States" with a gun dealer who was a friend of his.
Asked by defense lawyer Gerald Shargel if he had "told people, including undercover agents," that he was a "silent partner" with the dealer, DeVecchio said, "No. Nothing like that." In his memoir, "We're Going To Win This Thing," DeVecchio insists that he sold only one Luger to an ATF agent and that he did it on behalf of the "grieving wife" of a thirty-six-year-old medical doctor killed in a car crash. "All the proceeds went to her," he writes.
In court, DeVecchio admitted that he made the sale in the parking lot of the gun show, without filing the requisite paperwork, and that he asked "to be paid in cash or to have checks made out to cash."
When confronted by Shargel at the hearing with documents from the case in which the ATF agents reportedly accused him of making "incomplete or false statements," DeVecchio testified that he "couldn't recall" that.
In fact, in the course of the two-day hearing, he responded, "I don't recall," or words to that effect, more than fifty times.
Admitting that he sold two guns (which would have been in violation of federal firearms statutes), DeVecchio was asked by Shargel whether the widow's entire collection wasn't worth closer to $ 250,000. He replied, "That was handled by the gun dealer."
Shargel: With you, wasn't that right?
DeVecchio: Not all the time. I was not always present with him.
Shargel: Didn't you tell the agents that you were in for a commission?
DeVecchio: I don't recall what I said to them.
Shargel: You don't recall?
DeVecchio: No it was twenty-two years ago. I don't recall that.
Shargel: Well how many different checks did you cash. Do you recall?
DeVecchio: I have no idea.
By statute it's a felony, punishable by up to five years in prison on each count, for "any person except a . . . licensed dealer to engage in the business of . . . dealing in firearms."
As reporter Feuer reported, "Without a license, [DeVecchio] moved through the stalls of the firearms bazaar, and was soon approached by Michael Flax, an undercover agent with [ATF]." Flax told Feuer that his job was to troll the shows in plainclothes looking for illicit deals and that in 1976 "several people he caught similarly selling guns without paperwork went to prison."
Flax, who is now retired, told Feuer that his modus operandi for undercover buys was to approach prospective unlicensed sellers and say, "Gee I'd like to get this gun. . . . Do we have to go through all the paperwork?" According to Feuer, Flax said that he bought one Luger from DeVecchio in the parking lot, and after a multiweek investigation "a second agent secretly recorded the F.B.I. man selling another gun." Flax told Feuer that at one point DeVecchio "gave him a phone number at which he might be reached. It was, he said, an office of the New York F.B.I."
As Feuer reported, "a few weeks later, Mr. Flax brought the case to [Daniel M.] Clements, then a young federal prosecutor in Baltimore." "Flax comes to me saying, 'You're not going to believe this,'" Clements told Feuer, "' I have an F.B.I. agent selling guns illegally.'"
GIULLIANI INTERVENES
But as he moved forward to prosecute, Clements recalled, he was thwarted by Rudolph W. Giuliani, then a thirty-two-year-old aide to Judge Harold Tyler, the deputy attorney general in Washington. After being asked by Giuliani to prepare a pair of memoranda on the case, Clements told Feuer that he met with the aide twice.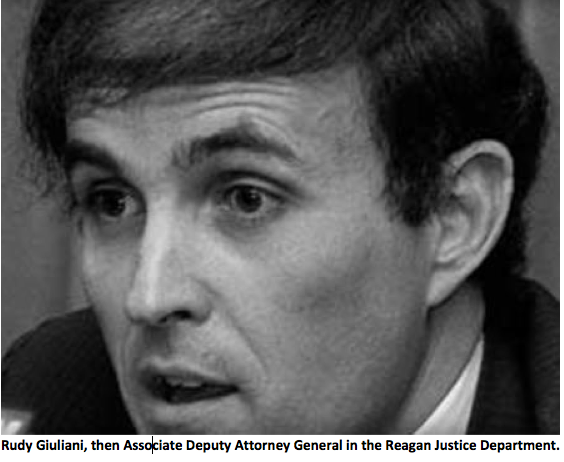 At both meetings, "Mr. Giuliani repeated his desire not to prosecute the case, saying the guns were old and the sale of them without paperwork did not warrant prosecution."
So ultimately, just as with the series of Justice Department indictments of Gregory Scarpa, the illegal gun sale case against Lin DeVecchio (in Flax's words) "went away." In his memoir, DeVecchio writes off the incident as a kind of technicality.
"I sold one to an undercover agent who was scouting the gun shows trying to buy from people who didn't file the appropriate paperwork. It was like shooting fish in a barrel because so many of the collectors didn't want to be on record in case their guns were later restricted by new gun control statutes to the point where they couldn't resell them. And some of these people had tens of thousands of dollars tied up in their collections. Well, I was one of the fish that got shot in the barrel."
But his claim that he sold just one Luger is inconsistent with his testimony in 1997, when he admitted to selling two. 31 Further, in another section of that testimony, referring back to the  Luger arrest, DeVecchio claimed ignorance of the law:
Shargel: You know that was a violation and it was found by the investigating authorities that you had violated section 922 of Title 18. You know that, right?
DeVecchio: I know that now. . . . I didn't know it at that time. I wouldn't have violated it.
Shargel: You didn't know you were breaking the law at the time you were doing it?
DeVecchio: That's correct.
Shargel: Did you know at the time that knowledge wasn't an element under the subsection of 922?
DeVecchio: I don't know what the Act reads or all the paragraphs in them.
Shargel: Are you aware as you sit here now, Judge Harold Tyler[,] then with the United States Department of Justice, concluded that you had clearly violated the law; and only as a matter of discretion you would not be indicted.
DeVecchio: I had no knowledge of that.
GIULIANI'S SELECTIVE ENFORCEMENT OF THE LAW
We can only speculate about how Lin DeVecchio might have treated a Mafioso who claimed he wasn't aware of a law he'd broken. But the important point here is that early on, Rudy Giuliani decided that Lin DeVecchio was an agent worth protecting, just as top FBI officials found Greg Scarpa worthy of special treatment.
In the mid-1980s, when Giuliani, then the U.S. Attorney for the Southern District of New York, declared war on the Mafia, DeVecchio returned the favor by using Greg Scarpa to provide the probable cause that legalized most of the wiretaps used to convict three family bosses in the Commission case.
That prosecution helped solidify Giuliani's reputation as a crime buster and advanced his political career exponentially.
Years later, in 2007, when DeVecchio faced four counts of murder following his indictment by the Brooklyn DA, the Justice Department delivered for him again by paying for part of his legal bill, which was estimated at the time to be $450,000.33.
For those fees to be approved, the U.S. attorney general himself, or his designee, had to conclude that DeVecchio's actions were within the "scope" of his employment at the Bureau and that the payment of the fees was "in the interest of the United States."
"With Scarpa and DeVecchio," says attorney Gerald Shargel, "the law was being selectively enforced. In protecting Greg from his many crimes, the Bureau was shielding a Mafia killer. In allowing DeVecchio to escape prosecution for the illegal gun sales, the Justice Department was protecting an FBI agent. In both instances the intervention was legally and morally wrong."
Giuliani's help to DeVecchio in the German Luger case was a variation on the mysterious quid pro quo that had insulated Greg Scarpa Sr. So as the Grim Reaper began his twelve-year association with "Mr. Organized Crime," the two men shared much more than a love for guns.